April showers bring May flowers … right? Hi everyone, Joe here. We have been getting a ton of rain in Northern California this year. Here's to a colorful spring! Speaking of some sunshine in the forecast, let's dive into the critical needs on the horizon for state and local government and education (SLED) IT leaders.
What's on the horizon for SLED IT leaders?
e.Republic's Chief Innovation Officer, Dustin Haisler, presented the Center for Digital Government's 2023 predictions for what's on government's radar at this year's Beyond the Beltway event back in February. I wanted to share a few details from this presentation with you all today.
Although it's impossible to predict how quickly these priorities could change, we wanted to organize our predictions so you could see what the immediate needs of state and local government IT leaders are, and what they are thinking about in their peripheral vision as they plan for future technology investments.
Immediate needs for SLED: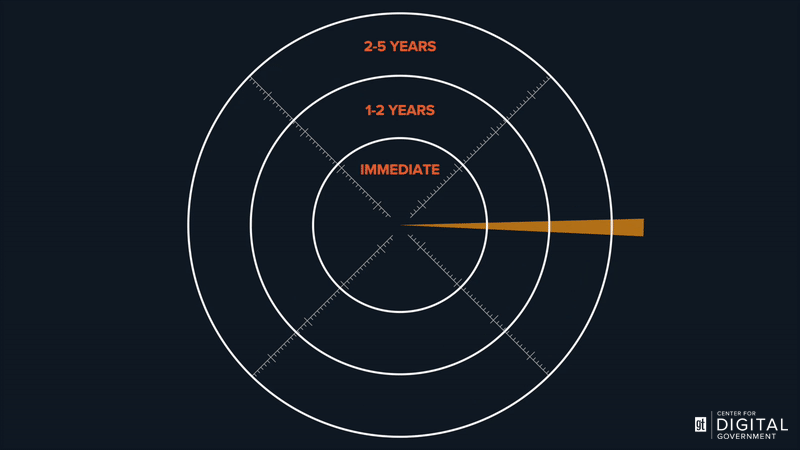 Technical Debt: Moving off of on-premise infrastructure to modern environments.
Data Management: Agencies are navigating how to comply with new state legislations.
Workforce: Agencies are looking to adapt the people that they do have and augment technology when they can.
Low-Code/No-Code: In order for CIOs to advance their strategic efforts, they'll need to adopt low-code/no-code platforms to make up for the struggle to retain and attract talent.
Cybersecurity: Government is always looking to mitigate risk knowing the inevitable reality of a potential breach.
Shadow Applications: Government agencies need to reconcile what was deployed during the pandemic and secure it in a single way with a single sign-on.
1-2 Years: Priorities for the next procurement cycle: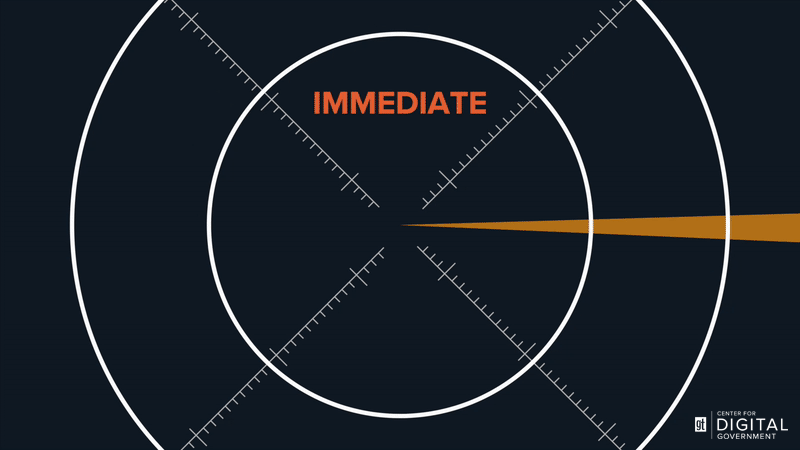 Generative AI: Tools such as ChatGPT and new advances in AI are changing the landscape of how government and citizens access information.
Broadband and Connectivity: Government agencies are really thinking about digital equity and how to connect communities.
Full Experience Modernization: IT leaders are looking to modernizing the entire government experience throughout the whole life cycle with both the back-end employees and front-end citizens.
Data Compliance and Privacy: There is an emerging set of legislation that is forcing agencies to comply with new rules and regulations, so governments need the right infrastructure for the new compliance rules.
Workforce Augmentation: Agencies are taking the limited resources they have and augmenting them with technology to make government services more efficient and remove the repetitive cycles to allow them to focus on higher-value work.
Managed Service Delivery: Agencies are looking to fill gaps with technology providers, or maybe even technology itself, where they aren't able to hire staff or retain employees for a particular function.
Identity and Access Management: Agencies are looking to implement logins using one identity across all services (whether it's for constituents or employees) from a hunting license to renewing a driver's license.
2­–5 Years: Digging into the data to plan for the future.
Identity Wallets: Portable identity will give constituents the ability to control what level of access government has to their identity.
Data Science As-a-Service: It's not realistic for every agency to have a Chief Data Officer. How can technology companies take their platforms and package them up to provide data science as-a-service, where agencies can query information just like I can query on ChatGPT today.
Contextual and Personalized Delivery: Governments need to anticipate what constituents need. How can agencies create Amazon-like experience for constituents and for employees? Governments need to anticipate what someone is trying to accomplish to streamline that experience for them.
Software-Based Roles: There are specific functions of government that can be replaced by technology. Keep in mind, this is not to eliminate people but to augment them with technology that can eliminate some of the manual functions.
IoT Service Enablement: Agencies will look to leverage all the internet-connected devices in the market and in our environments and help them function together. For instance, If I dial 911 and the streetlight turns blue, first responders know where I am based on where the 911 dial took place, and they don't have to find me in the mix of all the other people on the sidewalk.
AI-Driven Workflows: Government will need to implement smart business processes that are fueled by AI to help augment the traditional work cycles and redesign them for the future.
5+ Years: What the future holds for SLED


Quantum Computing: Governments need to prepare for what happens when the computing power of our infrastructure in the future can break current encryption standards.
Digital Twins: How can agencies leverage technology like digital twins to model and do scenario planning?
Government-as-an-API: We can't control every front door into a government agency, but in the future, you might buy a permit through Home Depot for that shed that you're building, and it automatically complies with the local rules and regulations. Government must enable that to exist.
Extended Reality: Governments will need to look at how to allow citizens to interact with information in new ways through different realities (augmented, mixed, virtual, etc.).
Web3 Infrastructure: Government will need to enable the future of infrastructure and storage and plan for the decentralized nature of applications that will emerge.
5 Macro Trends to Follow:
Here are the macro trends that are emerging around the types of technology mentioned above:
1. Technologies abstracting complexity.
We took on-premise data and put it in the cloud. Then, we took everything in the cloud and started to modernize applications so that we could have thousands of government services online. But now how do we abstract complexity?
When I go to a government website, I don't see every possible thing I can do online. I see specifically what I want to do based on my information, my role and my data.
If I don't own a business in that community, I don't need to see all the options related to owning a business, but maybe I need to see, hey, you could start a business here.
2. Ecosystems are emerging around disruptive technologies.
Look at ChatGPT and some of the largest emerging AI technologies. There is so much happening to both the front-end applications that citizens are using and the back-end infrastructure that's fueling those.
If you want to build an app that leverages text, code, image or any type of AI capability, you have an infrastructure that you can tap into.
This is creating a unique environment where there are entire ecosystems forming around disruptive technology and moving the needle faster than ever.
3. Technology is enabling new workforce models.
Gone are the days of the W2 and 1099 employees being the only two models. Last year, about 36% of the American workforce freelanced, meaning that they worked on the side to monetize their excess capacity.
Looking ahead, how do we adapt the workforce models of government to be acclimated to this? If an agency can't afford a CIO, maybe they can hire one that works for ten different communities having ten times the earning potential, but that one agency is only buying a fractional share of their time.
4. Software is eating the world, and it's also eating the government IT environment.
We are at this unique tipping point where from an infrastructure standpoint, agencies are now procuring more software than hardware in almost all cases outside of counties (which still have some technical debt that they're dealing with).
5. Platform approaches.
This is the platform era. Although approaches may differ, interoperability will become the standard. At the end of the day, there are hundreds of different types of applications that agencies can use.
What agencies want more than anything else is not a suite of applications that work together, but an industry of applications that work together. Many agencies will focus on interoperability and data portability as they plan their infrastructure investments.

Consider This:
There's a lot to confront with all this emerging tech. To name a few:
– Privacy
– Data ethics
– Transparency and processes
– Compliance and regulations
– Digital equity and inclusion
– Simplicity and conciseness of information and branding
– Unification across experiences.
As we look to shape the future of technology in government, I'd say this is an exciting time to be in the public-sector market.
That's all for this month. Drop me a note with any questions. Connect with me on LinkedIn here.
The charts and graphs in this newsletter were created with data from the Center for Digital Government and Industry Navigator.
Sign Up for Our Free Monthly Market Insights Newsletter
Get the inside scoop on the state and local government and education markets — delivered monthly to your inbox — from the one and only JoeKnowsGov!